Delhi remains on edge after the third consecutive night of rioting, with reports of Muslim homes and shops being targeted by violent mobs.
Twenty people have been killed so far in the deadliest violence the Indian capital has seen in decades.
The clashes first broke out on Sunday between protesters for and against a controversial citizenship law.
But they have since taken on communal overtones, with reports of people being attacked based on their religion.
Delhi Chief Minister Arvind Kejriwal has described the situation as "alarming" and demanded that "the army should be called in".
Photographs, videos and accounts on social media paint a chilling image of a city on the edge. There are reports of arson, of groups of men with sticks, iron rods and stones wandering the streets and of Hindus and Muslims facing off.
While fresh clashes have not been reported on Wednesday, the city continues to simmer. The unrest is centred around Muslim-majority neighbourhoods – such as Maujpur, Mustafabad, Jaffrabad and Shiv Vihar – in north-east Delhi.
Main roads in these neighbourhoods have been left in a state, say BBC reporters who are at the scene. The streets are littered with stones and shattered glass, broken and burnt vehicles are strewn about, and the stench of smoke from smouldering buildings fills the air.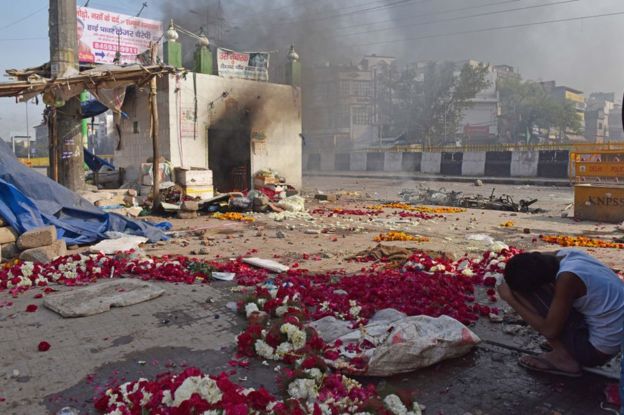 Judging by the names of the victims released so far, they include both Hindus and Muslims. Some 189 are injured, according to officials at the Guru Teg Bahadur hospital, where many of them have been admitted.
BBC reporters at the hospital say they saw people with all sorts of injuries, including bullet wounds, scrambling for treatment. They say the hospital seemed "overwhelmed", and many of the injured were "too scared to go back home".
A small crowd of around a dozen people is standing outside a vandalised mosque in Ashok Nagar, one of the areas worst affected by the violence.
The front of the green and white building is scorched. An Indian flag and a saffron flag, commonly associated with right-wing Hindu groups, are flying from one of the minarets.
Torn pages from the Koran are strewn outside the building. Two young men are picking up the pages and putting them in a plastic bag.
(Visited 1 times, 1 visits today)